Feeling time poor and overwhelmed? We know that feeling, its part and parcel of running a small business – but Trello can most certainly help with this. The problem is, where to start?  We will walk you through Trello, how best to use it to your advantage, showing you all about We've learned while using it to create a successful projects.
What's Trello?
Trello is a collaboration tool that organizes your projects into boards. Simple (and fun) to use, Trello tracks what's being worked on, who's working on what, and what the status is of each and every task in your given project. Think of Trello as a whiteboard filled with rows of 80s neon sticky notes with each note as a task for you and your team only with a heck of a lot more functionality and adaptability. You can take this whiteboard with you on your mobile or tablet, and can access it from any computer via the web. Sharing a Trello board with other Trello users is easy and you can see real time updates from team members, and mention other users to notify them.
Easily organise work across all of your boards
Trello is great for companies or individuals who have a number of tasks running at once and who need to be able to track their progress. It puts the onus of completing tasks on the user and helps reduce the chance of "forgotten" assignments. One of the reasons so many companies have chosen to use it over other project management tools is the fact that it is streamlined in comparison to other software.
Part of the reason Trello has caught on so quickly is that it can also be used for pretty much any type of project. Whether you need to create a personal to-do list, manage tasks for an upcoming wedding, or run an editorial calendar, Trello is simple enough for day-to-day use as well.
Cost
​Trello is free by default
For extra features, upgrade to a Trello pricing plan for a monthly cost
How to get started
​Sign up for an account at the Trello website
Create a board or ask a board owner to send you an invitation to join theirs
Search 'Trello' on the App Store (iOS) or Google Play (Android) to download the mobile app
Use the Trello help centre.
Check samples: This sample Trello board for project management uses the simple tips and tricks we outlined for you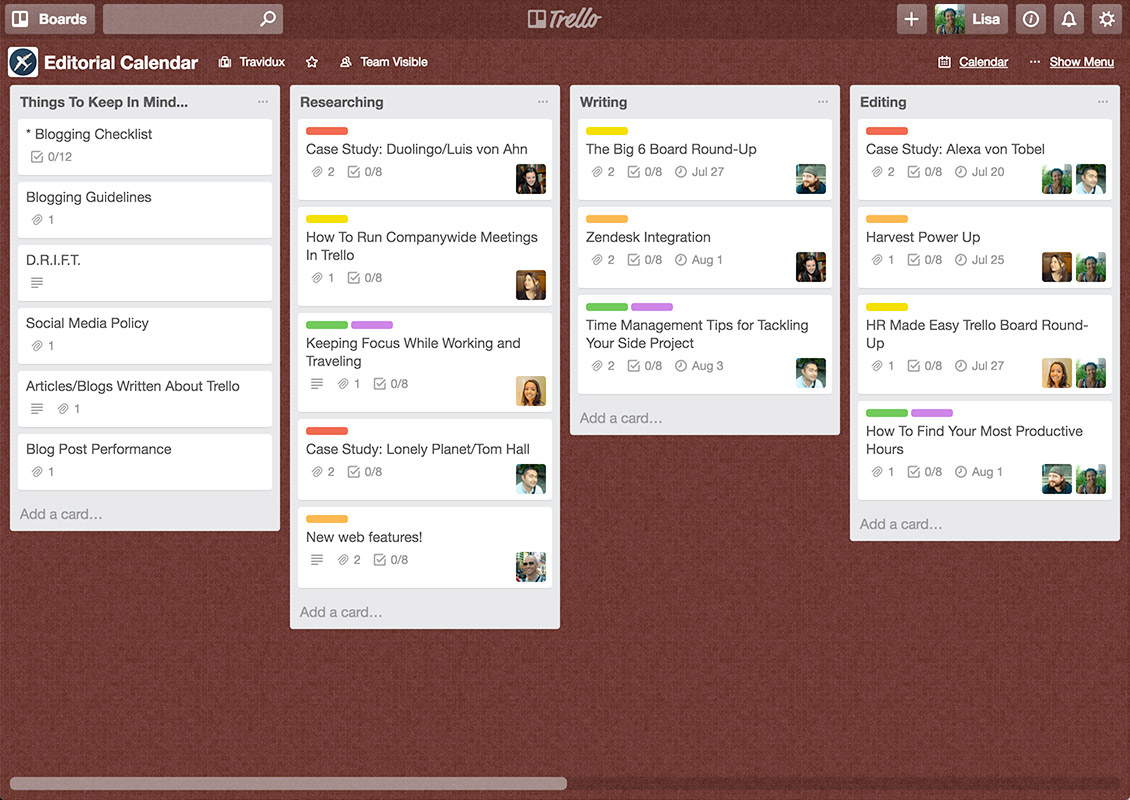 What you can do with Trello
Create and Organize To-Do List 
One of the best ways to stay organized is with a to-do list. A simple "To Do," "Doing," and "Done" workflow will transform how much you accomplish each and every day and week. 
Based on Kanban principles, Trello has three major lists: To-Do, Doing, Done.
To-Do: on this list, we place all tasks we need to complete. The cards are arranged in order of priority — the most important are at the top, the least — at the bottom.
Doing: this list shows what tasks are currently in work. In this part of the board, cards can be sorted by the date they were created or alphabetically.
Done: when a task is completed, it is placed in this list. You always can return a card to the other list by pulling it to the left or the right side.
Split your work into very specific lists so nothing falls through the cracks and use the reference list to keep important information on hand. You can either manage your To-Do-List from your mobile.
Project Management
With Trello, you can keep projects organized from start to finish, track progress, and ensure that nothing slips through the cracks. Whether it's a simple to-do list or a complex workflow, Trello is customizable to the demands of any project. 
Trello is a streamlined project management solution that leans heavily into its collaboration setup. While this tool's features are simple by nature, this platform offers many useful features that'll make your life as a project manager or team member much easier. These are the top five features offered by Trello.
Trello is a great way for your company to organize projects while accommodating team members with different schedules and locations. Furthermore, it is a great way for any staff person or freelancer to organize their own tasks and ensure they stay on top of intermediary steps and deadlines. With Trello, information won't get lost, you can store all files relevant to your project, and you can communicate effectively with your team. And, it's free!
Get control of your business by trying Trello. The best part is that you can use Trello for things other than project management. It's free, fun and highly customizable, so please do check it out.
Schedule a free consultation
If you are looking for someone you can trust and depend on for assistance and services, your search is over. Contact Us and Find out How our Virtual Assistant Team can help you !